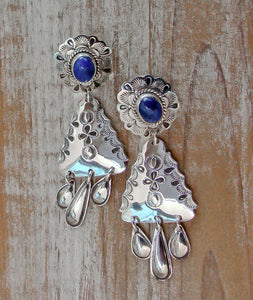 Native American Navajo Sterling Silver Lapis Dangle Earrings
These Navajo post earrings are handcrafted with Sterling Silver and Lapis, with Silver designs that dangle. This specific piece of Lapis is a vivid deep blue shade. These earrings are that perfect finishing touch for any casual outfit.

Measure: 2 7/8" x 1 1/8"
Stamped: Sterling
Vintage never worn
Please note: Most items are vintage. I clean and polish every item I ship due to concerns about germs etc... If you want your purchase left "as is" let me know before shipment. Keep in mind, that means fingerprints etc. In my opinion it's better to polish and if you want the item to tarnish, just leave it on your windowsill for a couple of weeks without wearing.